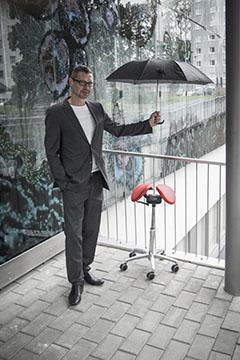 Leather
Never place leather furniture closer than 20–30 cm to a radiator or in direct sunlight.
Vacuum clean leather often with a soft brush and, when necessary, clean any exposed surfaces, such as armrests and headrests. For stains that are water-soluble, dampen the area and dry using a paper towel.
If you should get a stain that cannot be removed, never experiment with strong solvents or chemicals. The whole chair can be cleaned with Elmo cleaning foam and sponge. Foam the leather, let the foam stay for a couple of minutes and wipe away. The chair can be disinfected with Unisepta wipes. Other conditioners and cleaning products meant specifically for leather can also be used.
Some dyed textiles might stain light-coloured leather.
More information on cleaning Elmosoft® leather
Artificial leather
Clean with mild soap and water
Air-dry
For stubborn stains, use mild solvent
Disinfect with a 5:1 bleach solution
Dry-cleanable by conventional methods using commercial dry-cleaning solvents
Use mild detergent for the following stains: red wine, liquor, milk, ketchup, mustard, mayonnaise, steak sauce, soy sauce, butter, salad oil, chocolate, lipstick, make-up, face cream, suntan oil, machine oil, urine, blood.
More information on cleaning Ultrafabrics® artificial leather
Wool fabric
Vacuum regularly. Wipe with a damp cloth using soap and water or use proprietary upholstery shampoo. For deeper cleaning use steam or professionally dry clean. More information on cleaning Camira Synergy wool fabrics.
ESD fabric
Antistatic ESD fabric is best cleaned by dry-cleaning.
Polyurethane
Remove stains quickly by using slightly alkaline washing agents (max 5 % alcohol). Wipe the surface with a moist cloth and lukewarm water, and wipe dry if necessary. Do not use strong alkalis, or bleaches such as chlorite, acetone, xylene, or strong vinegar.